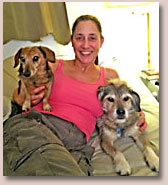 Doggie Daycare Delight is owned and operated by Lisa Ziccardi. Lisa has been in the doggie business for over 30 years. Lisa has been grooming dogs for 25 years and was one of the first mobile dog groomers on the NorthShore. She has also been boarding dogs in her home for 10 years.
Why choose Doggie Daycare Delight over other daycares and other boarding facilities?
We are one of the only daycares located out of a private home. We do not have a kennel-like atmosphere and the dogs know this and are immediately comfortable here. This is a stress-free environment for your dog. We also do not want 40-70dogs running around like other daycares. Your pet deserves to have special attention here at Doggie Daycare Delight. Our maximum is 30 dogs.
Also, We are 100% CAGE FREE! Unless otherwise specified by you. Dogs who board with us sleep wherever they want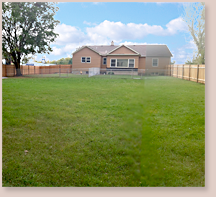 in my home. Including in bed with me. And because I live here, your dog will not spend 12 hours alone until the next day of daycare. If your dog has to go out in the middle of the night, we go out!
We also have one if the largest fenced in yards in McHenry county. We have 12,000 square feet of outdoor yard space with real grass, not ROCKS, like other daycares. Other daycares have small outdoor spaces without grass. Also, the floors in our playrooms are covered in rubber, specifically for the comfort of your dog!! You don't want your pet standing, playing or rolling around on concrete all day. Please stop in for a tour.
I would love for Doggie Daycare Delight to be your dogs home away from home!